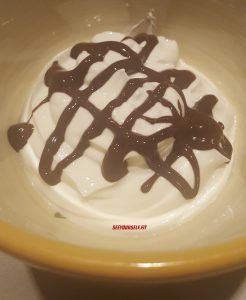 Okay, now that I have your attention…
Sorry to disappoint you, there is no "real" cheesecake recipe here–rather a dessert that tastes good and is reasonable on points! This is only two smart points, is refreshing, and gives you the taste of cheesecake, cherries and chocolate without a lot of guilt. Try it!
2SP Yogurt Chocolate Cherry Cheesecake!
1 Cup Fat Free Plain Greek Yogurt
1/4 Package Sugar Free Jell-o Pudding/Pie Filling Mix - Cheesecake Flavor
1/4 Cup Lucky Leaf Lite Cherry Pie Filling
2 Tbsp Sugar Free Hershey's Chocolate Syrup
Mix the yogurt and pudding mix powder in a bowl (mix well). Top with the cherry pie filling. Drizzle the chocolate syrup on top. Enjoy!
Sorry I forgot the cherries in my picture!