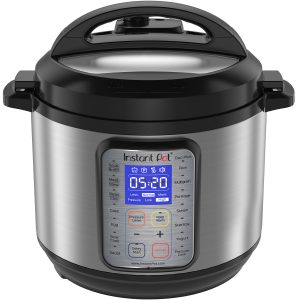 I'm sure you've heard of a pressure cooker. Think of the Instant Pot as a "smart" electric pressure cooker that gives you more precise control over temperature, pressure, cooking styles and more via preset options that are just a click away. We had used pressure cookers in the past; however, to be honest, they scared my wife so into the storage closet it went. After seeing her Facebook feed explode with references to the gift on Christmas, we decided to bite the bullet and buy one.
After a little research, we decided on the Instant Pot DUO Plus 6 Qt 9-in-1 Multi- Use Programmable Pressure Cooker, Slow Cooker, Rice Cooker, Yogurt Maker, Egg Cooker, Sauté, Steamer, Warmer, and Sterilizer version of the Instant Pot. Isn't that a mouthful?
We are both on #WeightWatchers, so those who use #Connect know, it is unavoidable to run into posts about the Instant Pot. There are a plethora of recipes, raves, questions and even a few rants. Overall, feedback is positive and Weight Watchers themselves have thrown their support in with information such as this weekly meal planner.
Initial Thought
It's a pressure cooker, what's the big deal? How could so many people really be that consumed by such an "old" cooking technique? Perplexing…
The Review
After cooking two meals (a soup and chicken dish) I'll summarize my review with, "I'm a fan." The setup is dead simple, and most of the recipes found online and in cookbooks tell you exactly what you need to set the pot on. This is one of those tools where you throw all your ingredients in, set it, and let it do its thing. We lead a busy lifestyle, both work full-time, so having this has proven to be a time saver.
We prepped the ingredients on the weekend then day of we were ready to go. Came home from the gym after work, threw the ingredients in, then took showers in the meantime. In just 20-30 minutes we had delicious lentil soup one night and a salsa verde chicken the other. In both cases all the ingredients were cooked and flavors well melded. The meat was moist and cooked just right. Even with prep, I doubt you'd be looking at more than 45 minutes for most meals. You can not ask for much more than quick, healthy, SmartPoint friendly meals!
Some Tips
After a few uses, here are some tips we've realized:
Go through the "test" cook using water as instructed in the manual. It helps to get familiar with the pot's functions and de-pressurizing process.
Spray the inside of your pot with Pam or other cooking spray to make sure nothing sticks.
Make sure you have the vent set to the proper setting (normally locked when cooking).
Don't push your pot too far under your cabinets. When you quick release pressure, you don't want all that condensation built up allover. You can also cover with a kitchen towel to absorb the steam, just be careful!
Now what are you waiting for? GO GET ONE!